DISCLOSURE: Some of the links in this post contain affiliate links. Know that I only promote products I personally use and stand behind. To learn more about my affiliates, please review my disclosure policy here.
Looking for an activity to entertain your toddler in a quiet manner? Consider sewing together a cute under the sea theme quiet book for them! Download the free templates from this post to create a few cute under the sea themes to add to your growing book!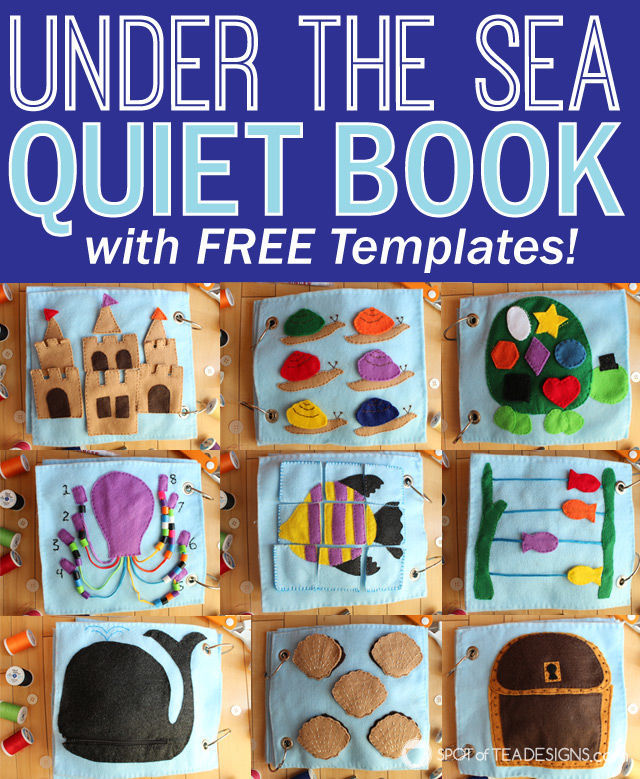 I recently shared the beginning pages to the Under the Sea themed quiet book I made Brielle followed by some additional page designs. I used silver grommets and book rings to hold the pages together, making it easy to add more pages later on. For now, I think this book is complete so please enjoy the last few pages of my first hand sewn Under the Sea Quiet Book.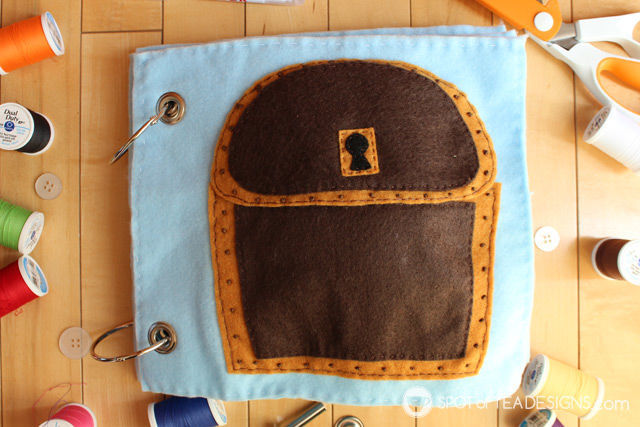 Treasure Chest Pocket: Brielle loves putting things in and out of pockets so I made sure to include one big pocket page for her. Adding the little French knots for the nails was the most time consuming part but I love how it came out.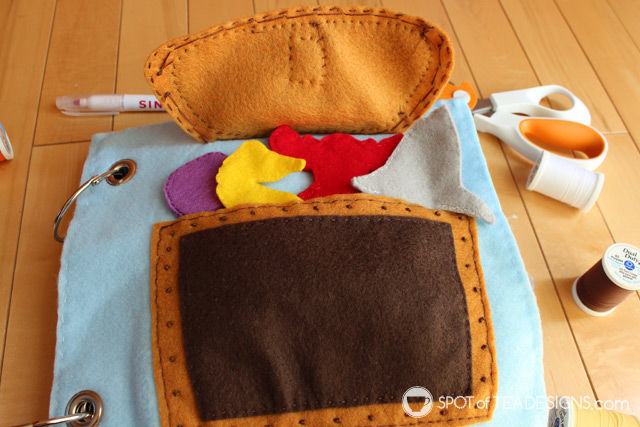 Overall, this project took a lot longer than planned but I didn't mind the time spent as it was a great way to keep my hands busy on long car rides and kept my creativity going! DOWNLOAD MY TREASURE CHEST POCKET TEMPLATE.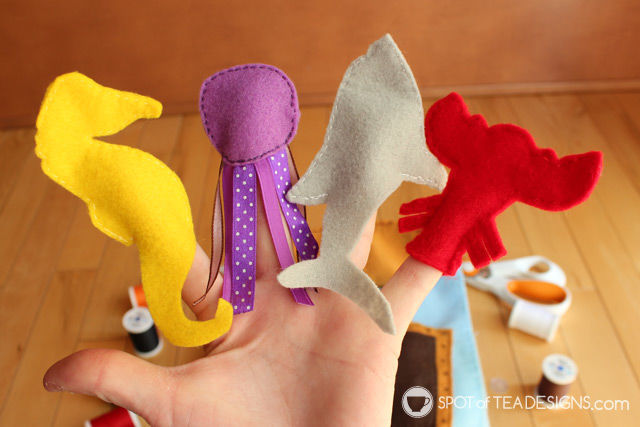 Under the Sea Finger Puppets: Now that we had a treasure chest that had a lid to lift, I wanted to make sure to include some goodies inside! Since she just recently discovered how finger puppets worked so I thought a few Under the Sea Finger Puppet characters would be a perfect fit! I made a little jelly fish design, sea horse, lobster and shark. DOWNLOAD MY FINGER PUPPET TEMPLATE.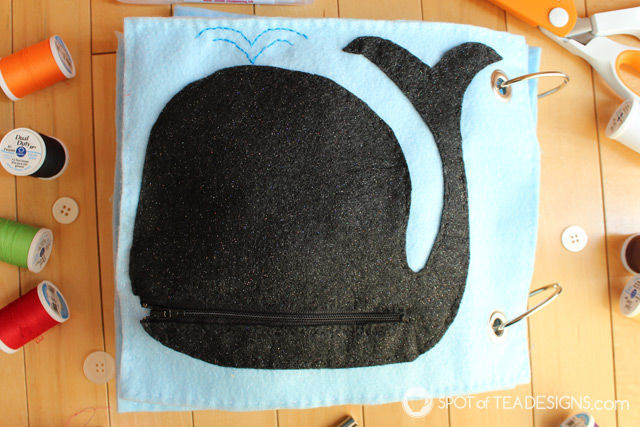 Zippered Whale: Like most toddlers, Brielle loves zippers! I made a large whale shape to fit most of the page and hand embroidered a splash of water out of its spout. She loves to open and close it, taking out fish shapes which are hidden inside.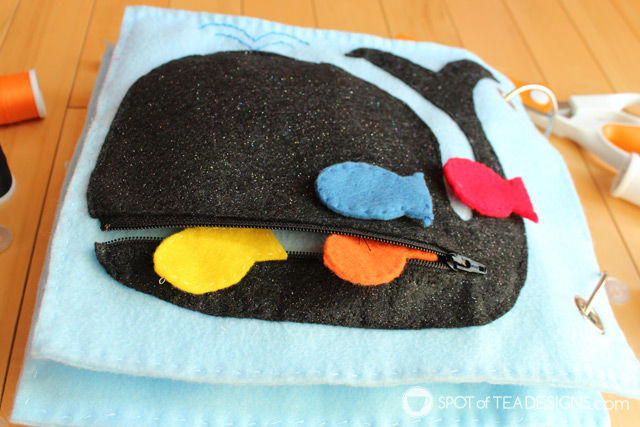 Just like the Swimming Fish page, she loves to take out those fish and tell me they're "crackers" like Daddy's beloved goldfish snacks. DOWNLOAD MY ZIPPERED WHALE TEMPLATE.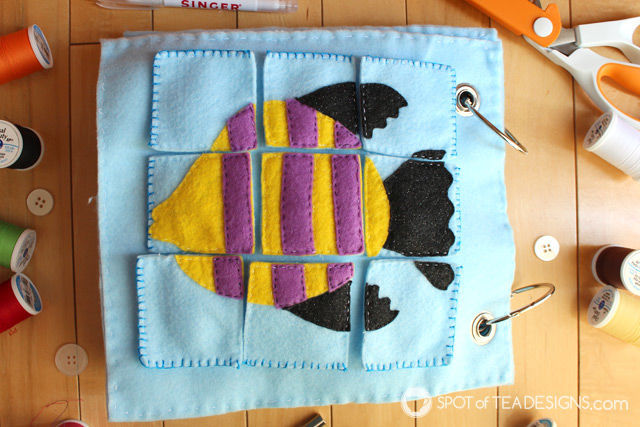 Puzzle Fish: I needed one more page to complete the book and decided a mini puzzle would be good. Little did I know that in creating these 9 simple pieces to this fish design, I was multiplying the amount of stitching I'd need to do to get down all the little shapes! I added the blue stitching on the border to help reiterate the border pieces (as in any puzzle, aren't these the first you put together?)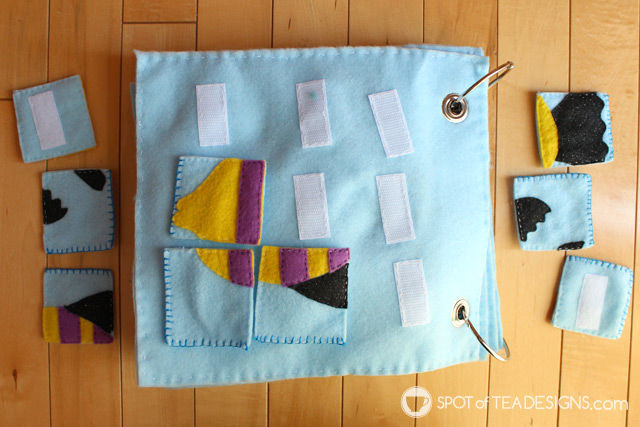 It was all good as I did this over a few nights and car rides and it came out great. Now Brielle can rearrange the pieces to put together this pretty purple and yellow fish design! DOWNLOAD BY PUZZLE FISH TEMPLATE.
Save