DISCLOSURE: Some of the links in this post contain affiliate links. Know that I only promote products I personally use and stand behind. To learn more about my affiliates, please review my disclosure policy here.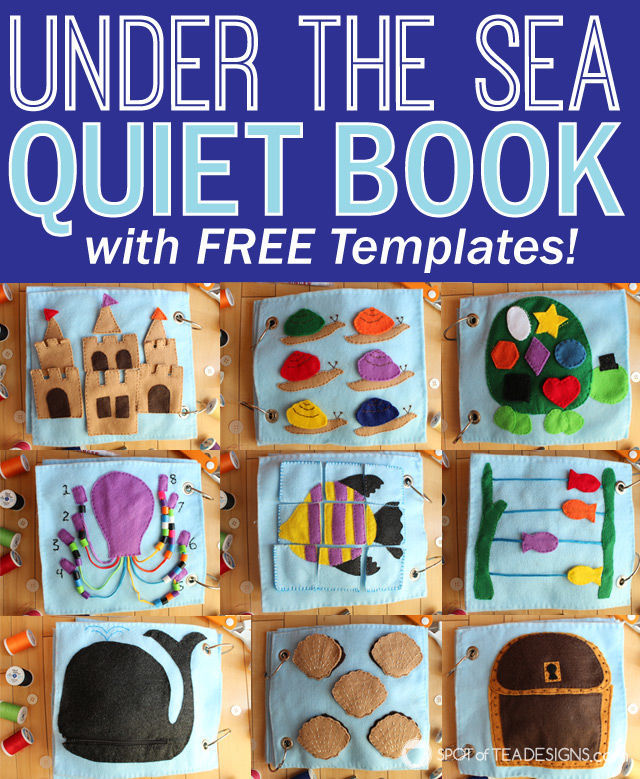 When Brielle turned one, I realized many of the toys she had enjoyed were no longer entertaining when we were out or in the car. I wanted to find something that was easy to take on the go and keep her busy so I decided to make her a quiet book!
A quiet book is typically a sewn felt or fabric based book that includes interactive elements on the different pages. Printable templates can easily be found but with a graphic design background, I decided to make my own! I focused on an "Under the Sea" theme creating pages to encourage counting, color recognition, and spelling. They included flip the flap elements, zippers, and velcroed pieces for building and rearranging.  While all the design elements seen here and the free printable templates available for you to download are my own designs, some items were inspired by pages seen across the Pinterest world.
Title page: This is of course Brielle's book so the front cover explains this as such. I used my Singer Dual Point Disappearing Ink Marking Pen
 to write out of the "this book belongs to" words and hand embroidered them with a simple stitch.
I hope we use this page to practice spelling the letters in her name aloud with the rainbow block letter shapes below it.
Swimming Fish: To create a scene of swimming fish, I used colorful shoelace cords connected between two felt seaweed pieces.
Brielle can slide the fish back and forth across the strings. The funniest part I find about this page is that she calls the fish "crackers" as they look like the goldfish crackers that daddy likes to eat. DOWNLOAD MY SWIMMING FISH TEMPLATE.
Lift the Flap Shells: Brielle loves all her lift the flap style books (this one, Fisher-Price Little People Farm
, being a current favorite) so I knew a lift the flap concept was needed in this quiet book.
I hand embroidered some clam shells and used them to cover up shiny buttons as pearls inside. DOWNLOAD MY LIFT THE FLAP CLAM TEMPLATE.
Brielle used her book on the plane ride to Disney and at the hotel during down time between parks and eating adventures!
Check out my follow up post with more page examples!
Sharing With:
Posed Perfection, Kitchen Fun With My 3 Sons, Craft Dictator, Live Laugh Rowe, All Things with Purpose, Too Much Time, Sowdering About, Cherished Bliss, DIY Dreamer, The Happy Housie, Home Stories A to Z,