DISCLOSURE: Some of the links in this post contain affiliate links. Know that I only promote products I personally use and stand behind. To learn more about my affiliates, please review my disclosure policy here.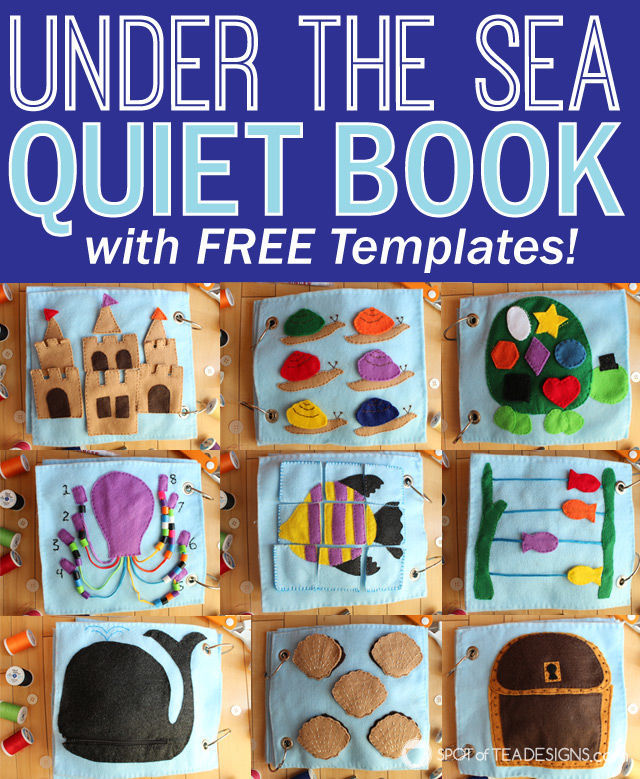 I recently shared the beginning pages to the Under the Sea themed quiet book I made Brielle. Her book was one of the many "airplane ready" items I the Easter Bunny gifted her in this year's Easter basket since we were due to fly out on vacation a few days after Easter.
Before we go into some additional pages, I wanted to pass along a few tips I learned along the way, which mostly have to do with supplies:
Get a good pair of scissors that cut felt! Since my book was felt based, any old scissors wouldn't do. Luckily I had a pair of these Fiskars 8 Inch Amplify Mixed Media Shears, which worked GREAT for cutting all my intricate felt shapes for a crisp look or easily snipped a piece of thread. I LOVE these scissors!
Pack all the supplies needed for each page in their own Ziploc bag. I always had one or two baggies packed with the template or already cut shapes, felt page surface, scissors, threads, sewing needle and pin needles and any additional accents (Velcro, buttons etc). It was easy for me to grab a bag if we were headed out on a car ride or just when I was sitting on the couch and I didn't have to have my whole box of supplies at my lap.
Use a disappearing ink pen! I loved my Singer Dual Point Disappearing Ink Marking Pen using it to help add any embroidered accents to my pages, such as the numbers on the counting octopus page or the decorative stitching on the snail shells as seen below.
There are different types of Velcro. In the beginning pages that had Velcro, I used whatever Velcro strips were already in my stash. it was REALLY hard to sew through them and it wasn't until I needed more that I saw that they sell different types of Velcro backing at the store, including a softer kind that is much easier to sew with a machine or hand sew!
Use grommets and bookrings to assemble. I love that I can add to this post or mix and match pages from any future books because I used grommets and bookrings to assemble. I found this post really helpful in explaining how to use grommets for these types of projects!
And without further ado, here are a few more pages of my first felt quiet book: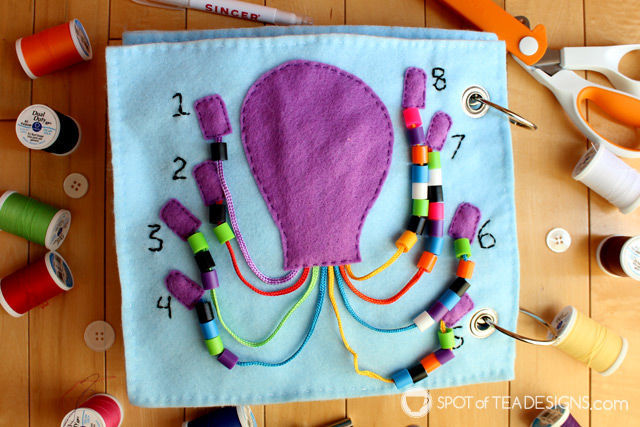 Counting Octopus: Just like my swimming fish page shown in part I, this page included some moveable elements on shoelace cords. Brielle can practice counting from 1 to 8 on these octopus legs. I added the hand embroidered numbers next to each leg as an aftermath thought to help number recognition.
While she isn't yet counting out loud, she does like to slide the beads back and forth on the shoelace legs. DOWNLOAD MY COUNTING OCTOPUS TEMPLATE.
Colorful Snails: Brielle loves this page, removing and rearranging the colorful snail shells on each of the 6 different bodies.
There is no right or wrong for which shell goes where so I just let her play as she wants! DOWNLOAD MY COLORFUL SNAILS TEMPLATE.
Sandcastle: While this page might be a stretch for the UNDER the sea concept, I still love it! This page was inspired by a few that I saw on Pinterest, most of which showcased a bucket that housed all the sandcastle shapes.
Since all of my pages are single layouts I chose to use Velcro on the back of each shape so they'd have a place to stay when not in use. Brielle can remove and rearrange her castle however she wishes to build and we hopefully won't lose any of the pieces along the way! DOWNLOAD MY SANDCASTLE TEMPLATE
Shape Turtle: This is by far one of Brielle's favorite pages, this page includes 8 shapes that are all different colors that are connected by Velcro shapes.
Outlined shapes are shown on the turtle's shell so the purpose is to place the correct shaped piece on the correct outlined shape. She isn't there yet but with this page, hopefully she'll practice recognizing colors, shapes and practice those fine motor skills by unlatching and reattaching the pieces. DOWNLOAD MY SHAPE TURTLE TEMPLATE
Go here to see the final pages of my Under the Sea quiet book!
Sharing With:
Too Much Time On My Hands, Live Laugh Rowe, Kitchen Fun With My 3 Sons, Made in a Day, Posed Perfection,
Save