DISCLOSURE: I am part of the DecoArt Blogger Program and was provided product samples. I only promote and share products I personally use and recommend! To learn more, please review my disclosure policy here.
When it was time to plan the nursery for baby number 2, I knew one thing was for sure: she'd need some custom made wall art from mommy! Here's the first the several DIY projects I completed for Hailey's "Under the Sea" themed Nursery!
I've been eyeing all the string art projects popping up on Pinterest these days and decided to tackle one using the same seahorse shape I used in Brielle's Quiet Book. The base was made from a scrap of wood left over from the growth chart I made. It is sized 9.25 x 10 inches.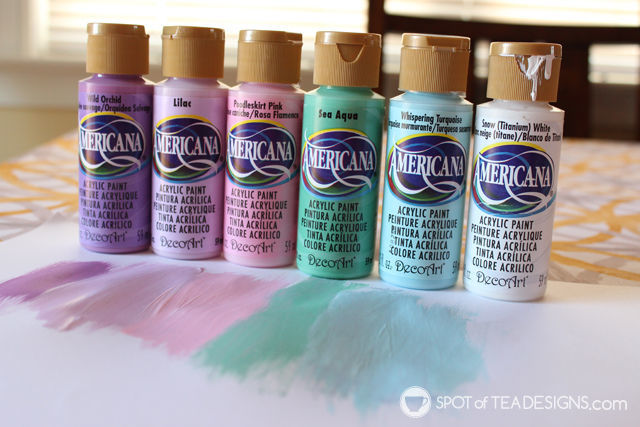 After Derek painted two coats of primer, I gave the board a nice background design using a dry brush technique Wild Orchid and Lilac Deco Art Americana Acrylic Paints. I love the coverage these paints give you on wood surfaces!
I used temporary adhesive to add my seahorse template to my board. Feel free to download my template for your personal use here. It's shown on two pages so you'll need to print each, overlap and tape together to get the full length of this design.
Even though I saw a lot of bloggers tape their designs right to the board and not cut them to shape, I suggest you DO cut yours to shape. One particular blogger pointed out that she had some paper fragments left over when nailing right into the paper and not next to it like I did.
Next, I nailed in all of my nails around the shape. Since I thought this was a somewhat complicated design, I started with all the key points in the shape so I knew those spots would be anchor spots. Then I kinda eyeballed the other nails all the way around (my typical crafting method).
TIP: make sure to look for nails with a decent nail head so you have something to wrap your string around. I used these wire nails and they were perfect for this project!
After removing the template I was happy to see that I could fully recognize my shape. Whew!
I used this Aunt Lydia's crochet string for my project as it was thin enough to easily get into the tighter spots but still held up well without a worry of breaking.
To decorate, tie the string around one nail and go all the way around the outline first, adding some loops around some of the trickier "corner' sections of the shape to secure it in place.  Once it was completely outlined, I just went crazy twisting the string around the shape in no particular order. I have fun with this trying to make sure to make all new paths in any new direction. The great thing about this part is there really is no right or wrong!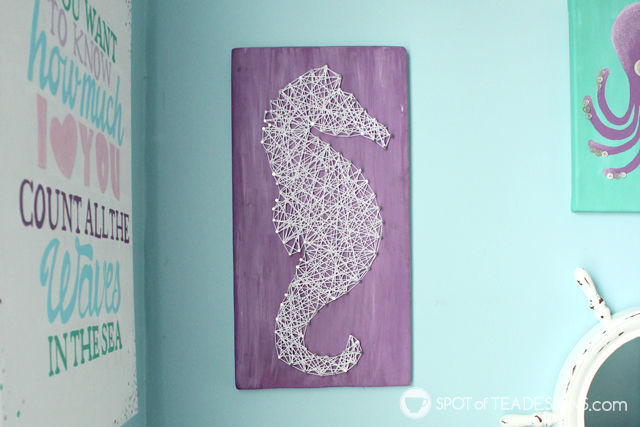 I love how my first string art project turned out and think I'm hooked on this design style! There was such little cost and I love the texture it gives to the room. I think another string art project might be needed in the future! :)
Learn more about Deco Art via their website | Facebook | Twitter | Pinterest | Instagram | Youtube.
Take a tour of this Under the Sea nursery, which includes more DIY crafts!
UPDATE: I've been getting a lot of comments/emails/interest in this item! If you make your own version, I'd love to see a photo of it in your home! I'm always looking for submissions to my annual Reader's Feature!
Sharing With:
Save
Save
Save
Save
Save
Save