DISCLOSURE: Some of the links in this post contain affiliate links, which come at no cost to you. Know that I only promote products I personally use and stand behind. To learn more about my affiliates, please review my disclosure policy here.
Learn how to make a DIY strawberry Halloween costume for a toddler that is not only affordable but also adorable!
Why a strawberry? I wanted to make use of the diy tutu I made for Brielle's Christmas card photoshoot. It was so cute!! Exhibit A:
I brainstormed red costume ideas and a strawberry Halloween costume concept was born!
First off, let's recap how easy it was to make the tutu:
Yep, you cut the tulle and loop it through the band. I used a stretchy adult' headband as the main band. Pretty easy, right? The next part wasn't hard either!
Supplies:
Red long sleeve t-shirt (bought at Walmart for only $3.88!)
Felt (black, green – Hobby Lobby sells it $0.25 a sheet)
Scissors (these are my favorite for cutting felt!)
Needle and Thread
Scrap paper
I made a rough template of a seed and a leaf with scrap paper and traced them on the felt. I think it was 8 green leaves and maybe 20 seeds (give or take). This next part is key… make the most use of your time! As a busy mom, trying to juggle my part time work at home, keeping up with the blog, raising my daughter and trying to have time for my husband, I have little time for the actual crafting part of things that I enjoy!
For this project, I packed myself a little Ziplock bag of all the pieces I needed including the cutest little sewing scissors from Derek's Great Grandma (Nana). I brought this bag along with me on several car rides where I was a passenger and got to work sewing on my pieces. I apologize for the non DSLR photo here but I wanted to make sure to grab a shot of my "work station" (aka my lap) so my cell was the best I could do.
Here's a close up shot on my pieces sewn on with my lovely, uneven hand sewn stitching. I'm not the most beautiful, even sewer there is. You better not turn this thing inside out or you'll see the ugliest stitching ever! But whatever, it works!
To finish the piece, I added some green felt around the top neckline. Doesn't she look cute?!
Paired with a pair of black leggings and an orange pumpkin bucket and she was all set to prance around the neighborhood look berry cute in her strawberry Halloween costume made by mom! :)
Sharing With:
Kitchen Fun with My 3 Sons, Just Us Four, Craft Dictator, Too Much Time On My Hand, Our Mini Family, CraftOManaic, Crafts A La Mode, A Glimpse Inside,
Curious what she wore the next year? She was a tiger! Learn more on this almost no sew costume!
Year 3 she was a pig and yep I DIYed this costume too!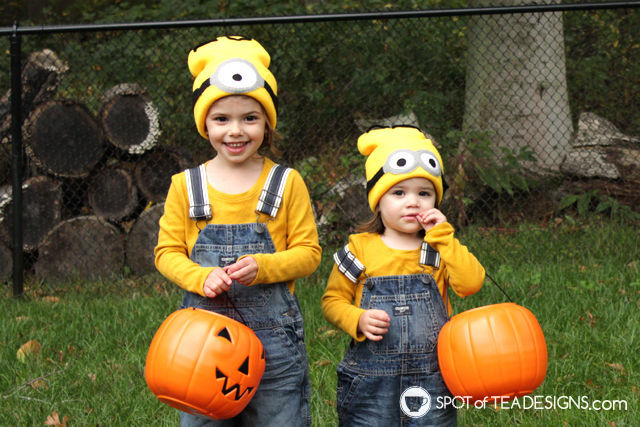 Year 4: Despicable Me Minions Halloween Costumes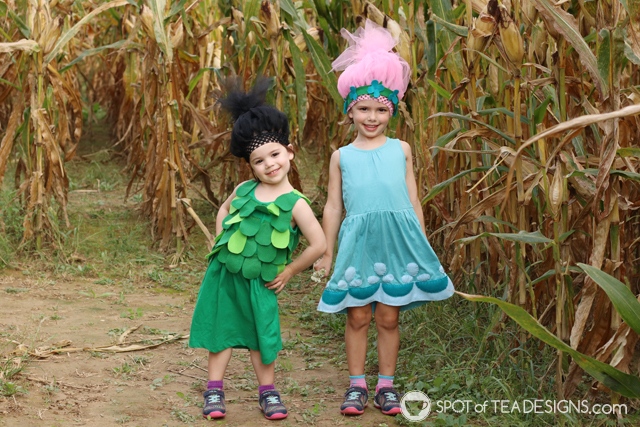 Year 5: Trolls Halloween Costumes
Save
Save
Save
Save
Save
Save
Save