DISCLOSURE: Some of the links in this post contain affiliate links. Know that I only promote products I personally use and stand behind. To learn more about my affiliates, please review my disclosure policy here.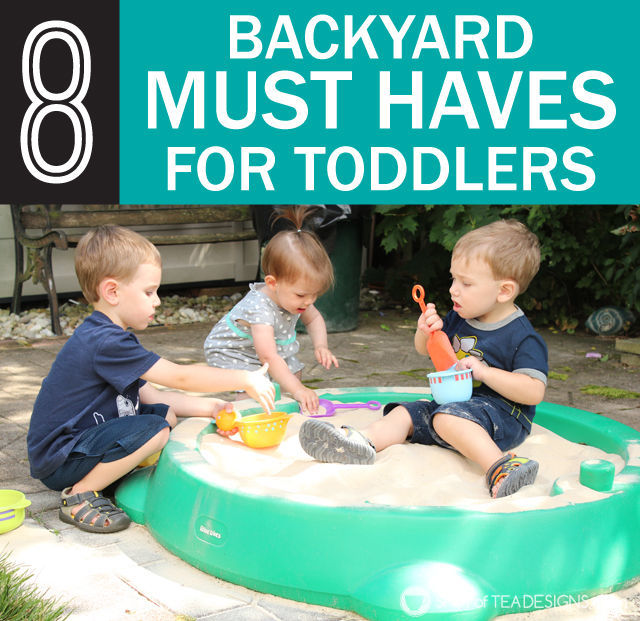 It's officially summer but we've been enjoying the beautiful outdoor weather for a few weeks now! Besides visiting the nearby park, we've also enjoyed plenty of time in our beautiful backyard space. Here's a quick list of what I'd consider must haves for fun summer toys for a toddler so you can stock your backyard!
Water Table – Last summer, at just under a year old, Brielle stood at her Step2 WaterWheel Activity Play Table for a little bit of outdoor play. One year later and she still loves her water table, but plays in it so differently! Now she enjoys splashing, sifting the water between containers and sorting the items floating inside. I usually dress her in a bathing suit and swim diaper when playing with her table as she can get quite carried away and gets soaking wet. Pair the table with a few lightweight balls, assorted cups and sifters and you're on the way to a fun activity to last a while!
Sandbox – You can see the one we have from Fisher Price in the title image above. We picked it up from a neighbor who was throwing it out when their kids outgrew this age but otherwise there was nothing wrong with it. I LOVE that it has a lid since we have neighbor cats that might confuse it for another unsanitary purpose. Tip: Do a little research about sand and what type you want to include in your sandbox. Our sand is SUPER fine and not good for building, which is fine now for her younger age in which she just digs, sifts and hides things but older children might be disappointed that it's not actually play sand which allows for sandcastle sculptures. (UPDATE: Check out 3 outdoor activities to do in summer, including some sand box play!)
Watering Can – This seems like such a small and simple toy but can bring endless entertainment to a toddler. Add it to the water table for a new sprinkling sensation or encourage filling it up and watering the plants around the yard. Regardless it's simple enough for a toddler to use and cheap enough to pick up at any big box, dollar or grocery store.
Sprinkler – Brielle was a little young last summer when we brought out our Melissa & Doug Sunny Patch Blossom Bright Sprinkler as she didn't understand the concept of a sprinkler. She'd just stand and let it squirt her, even if it was squirting her in a not so fun way. Now that she's a toddler and can comprehend a lot more she'll go in and out of the pumping streams for endless fun. We also set it up near our water table and other interactive water/sand toys and turn it into her very own water park! Tip: Keep water shoes on during sprinkler play to give a better grip in the wet grass. (Those looking for a more boy or gender neutral sprinkler will want to check out their Melissa & Doug Sunny Patch Grub Scouts Sprinkler, which I bought for my nephew's first birthday a few years back).
Bubble Mower – Brielle got this Fisher-Price Bubble Mower for Christmas and enjoyed it's bubble-less life for months before we were able to take it outside. She still loves to push it, bubbles or not, but these special additions make it for an extra fun day! I especially love when she pushes it around as daddy is mowing the lawn with his big boy mower. It's so cute to see them side by side :)
Sidewalk Chalk – As long as you have some sort of hard surface on your property, you should pick up a pack of sidewalk chalk. Stone tiles, decks, garages, and fences are all great surfaces for creative art time that simply washes away with a hose or rain water. Tip: get a new Tupperware container to store the chalk. It's nearly impossible for an adult, let alone a toddler, to get the pieces back in properly so just give in and buy a new container for easier storage.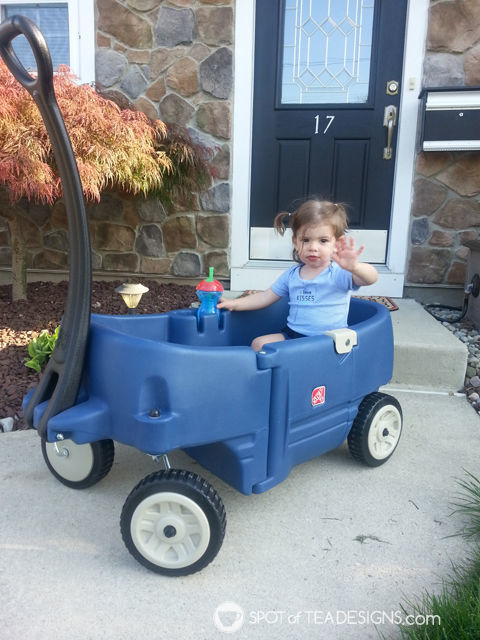 Wagon – We LOVE our Step2 Wagon for Two Plus since there are two seats with seatbelts (which Toddlers love to buckle), a door for easy entry, an area for her drink, and a flip up storage area (since toddlers also love to put things inside other things). Brielle loves to get in and go for a ride around the property. She also collects all the outdoor balls and toys and will throw them inside like a storage space. I look forward to pulling her and her sister in it in future years!
Picnic Table – We picked up a foldable mini picnic table at Sam's club last fall and Brielle has loved it this outdoor season so far! It's sized just for her so she can get in and out of it by herself, without help. She loves to have a spot to put down her drink or snack when we're outside and I plan to use the surface for some messier outdoor act activities soon!
Tip: Whenever planning outdoor playtime, don't forget the sunscreen!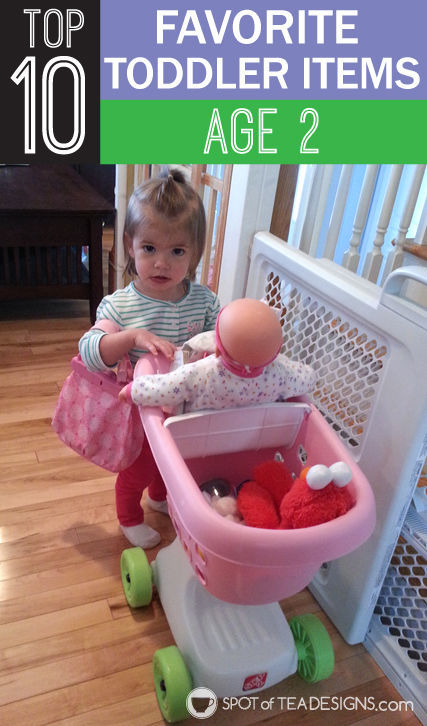 Looking for more favorite toy suggestions for toddlers, then check out this follow up post!
Sharing With:
Save
Save
Save