You are currently browsing the monthly archive for June 2012.
I suddenly realized the other day that I never showed any photos of Allie's beautiful wedding this past May! She lucked out with beautiful weather and all her DIY elements and handmade purchases were shining through! Here are a few examples of these personalized elements:
Guests arrived and were asked to make their mark on her tree canvas "guest book" which is now hung in their home. She hand sketched the design based on examples seen online, then decoupaged baby wipe containers to dress up that convenience for her guests. Guests used ink to create a leaf design and used the markers to accent the leaf with their name and/or character design.
Loved her ruffled ombre cake! While she herself didn't make the cake topper, this accent was a handmade element! The robot design that includes a bride, groom and their dog Misty, which is now displayed in their home was made by the Robots Are Awesome Etsy shop.
Allie, a lover of all things nature and the outdoors, wanted to make sure this concept was included in her big day. She ordered, transported and with the help of the bridesmaids, created all the bouquets, centerpieces and flower accents seen on her big day. Above, you can see an example of our flower arrangement skills, along with the rustic table numbers, created by her hubby, and an "I Spy" game to encourage and entertain guests to take more unique photos. See how Tim created the table numbers here and look for future posts on how we DIY'ed her wedding flowers.
Lastly, as you've already seen on a previous post, guests left the venue with a handmade token, these birdseed ornaments, to hang at their home.
I love a personalized wedding! Allie and Tim definitely had this going on at their beautiful May celebration!
Related Posts: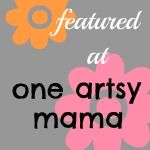 I was so excited to check my inbox today and see that Amy, of One Artsy Mama, picked my Year of Date Nights gift in her Top 10 Thursday this week! Join her on Fridays and enter your latest crafty post in her Shine On Fridays series!
Thanks again for the feature, Amy!
I came home from work one evening to a very excited fiance. He discovered one of his favorite bands was doing a one night only reunion show in Austin, Texas (their hometown).
He bought tickets (to what later became a 2 night show) and proclaimed "we're going!" A few weeks ago, we made our trek down to Austin for a short weekend of eating, drinking and rockin' out. Here are some of the highlights of our short weekend down south.
The Music
Mohawk - This was of course the reason we were here, right, to see The Impossibles play at the live music capital of the world?! We spent 2 nights rockin' out at this multi level, outdoor venue. Beers were cheap (Lone Star, "the national beer of Texas" was $4 for 16 ounce cans), the music was loud, and the stadium like setup was great for seeing the band from all angles. While there's only a small area down below for jumping around and stage diving (which really wasn't even encouraged), you could pretty much find a good view on any one of the multi levels.
The Food & Drinks
Those who know me, or even those who have been reading my blog, might know that I'm not the best eater. But I'm trying to get better, even trying new things when I can! So you might be surprised to learn that much of this trip had to do with food. For one thing, Austin is known for Food Trucks.
Austin Daily Press - Red River Street is well-known in Austin as the place to go to hear live music in outdoor venues at night. Mohawk was located here so once it let out at 12am, we saw Red River Street come alive with late night foodies. We stopped at the Austin Daily Press, right outside Mohawk, at midnight for a delicious meatball parm panini for the great price of $6.  I can see why when we walked by earlier in the day, that the truck itself is only open 8pm – 3am, prime munchy time.
Stubb's BBQ - After 6 hours of plane hopping and traveling, we were ready for our first Texas meal! I had read about and been recommended Stubb's BBQ, right down on Red River near Mohawk so we gave it a try. D had the lunch special (Pork Tacos) while I tried the Pulled Pork Sandwich (first time ever ordering bbq in a restaurant before). I was happily surprised to taste the non spicy BBQ meal and deliciously crunch fries. D enjoyed his tacos along with a cheap pour of a local 512 IPA.
Iron Cactus - It's HOT down there in Austin. I mean really hot! While it didn't hit 100 degrees when we were there, the low 90s was hot enough for us! Luckily, we came across the Iron Cactus on 6th street, where the bartender Matt, created a Blueberry sage margarita for me and opened a few Austin Ambers for D to chill us down. We sat at their upstairs covered patio that held these misting sprays that seemed to be the way to keep cool on the cheap for Austin restaurants.
Guero's Taco Bar - After a 1.5 mile walk down South Congress on Sunday, by recommendation, D and I stopped to enjoy some tacos at Guero's Taco bar. I had the chicken questadillas with wheat flour tortillas while D enjoyed steak tacos with flour tortillas. It was yummy but also super filling! Luckily we had another 1.5 mile walk back to our hotel where we could walk off our meal!
Amy's Ice Cream - By day 2, we were ready to find something cool to chill us down without dehydrating us (i.e. more beer and margaritas). After touring the capital building (yay AC!) we went on a hunt for ice cream, frozen yogurt, snow cones or anything cold. When Google maps let us down, we made the hike back to the concierge at the Intercontinental Hotel, where we stayed. "Doesn't Texas do ice cream?" I asked them. I got a very puzzled response from the three members working the desk as they brought up their own area maps. Yep, there's a few options (none less than a 10 block walk) but they suggested to go for Amy's Ice Cream as it's "worth the walk." With our new map in hand, we made the 1 mile walk out to Amy's and they were right, it was worth the walk.
After a brief history and small taste sample of the Mexican Vanilla bean vs the traditional one, I went for Mexican Vanilla with Oreo cookie crunch ins (which is a similar concept to how they make the Coldstone creations) as D went for the Dutch chocolate with the Oreos, as well.
Related Posts:
Derek and I are in our 30s and both the oldest cousin on each side of the family. We remember our younger cousins being in born, in diapers and growing up. So sometimes it's hard to believe we still have family members graduating high school and college! Randomly, this year we have three cousins who are moving onto the next school level and/or the real world!
To celebrate this big occassion I made the above cards for each graduate, using my favorite punch gallery technique.
Congrats Kelly, Carolyn and Helen!
(supplies: Patterned paper: The paper company; Stickers: Jolee's) 
Related Posts:
My first internship and fulltime job was at a plush and novelty toy manufacturer as a graphic designer. This is where I met today's guest poster. She was a quiet, smiley designer who could add a cuddly personality to any item, whether it was breathing or an inanimate object!  I recently reconnected with Liz as we are both bridesmaids in Vanessa's upcoming wedding and she finally caved agreed to be a guest poster at Spotofteadesigns.com.  Read on and meet Liz Urso:
Hi there! First off, I just wanted to say thank you to Tara for giving me an opportunity to be a guest on her blog! I am so excited to be doing this and I will try not  to get too carried away.
I wouldn't say I am a Jack-of-all-trades, but I do have a handle on few different things. I am currently a graphic designer/ illustrator in the scrapbooking industry as my day job. I basically make a lot of cute patterns and stickers. as evident of the summertime collection above.
The rest of the time you can find me doodling away in my sketchbook, drawing, card crafting and making toys.  I love to collect patterned papers, buttons, ribbon, shiny glass bits, small trinkets, whatever I can find that would be good for altered art crafts and card crafting.
I have made it a point to card craft  for almost every occasion or holiday because I enjoy doing that and most of the time a handmade card just seems way cooler than a store-bought one. I love being crafty!
Recently, I have been killing my colored pencils to make my wood  drawings, like this "Return to Sender" design. I just love drawing on wood more than paper.  I am not really very quick with acrylics paints and I have a better handle with colored pencils. I really like the way they blend! I would eventually like to try out oil paints, but I think the drying time would bother me! I'm always open to trying new techniques and mediums, but wood and colored pencils is where it's at right now.
As an alternative to drawing, I also do digital illustrations or computer-rendered drawings. This is a design I call "Silence", which you can find at my Society 6 Store.
When I am not drawing or being paper crafty, I'm sewing. I call myself the cute critter maker. No, I am not making little Frankenstein creatures, but I do make my own line of plush called Lizlings.
Say hello to some of my Lizlings: Monkey, Fox, and Owl.  I have been sewing up my own toys for about 10 years now. It all started out in college when I was becoming very anti-graphic design. I was never really into making art on a computer or being a person that works in a corporate environment. I kind of had a limited idea that graphic design was just brochures and magazines. I was definitely wrong!  However back then, designer toys were becoming a trend and an expensive hobby of mine. Eventually it got me thinking about making my own toys and designs to go with it. Now I make toys for friends and family who want to give or get a unique handmade plush.  All of my designs are original.  I usually always sketch out my design first, then bring it into the computer to create a template where I will then print out and use the shapes to make a 3D plush design.  Oh, I forgot to mention that all of my toys are not just handmade, they are hand-sewn. Yes, I sew each toy with sewing needle and thread. I do not use a sewing machine, mostly because of my lack of experience with them. I just feel like I have better control with a sewing needle than I would with a sewing machine. I promise you that these little guys are durable and built to last as long as you're not throwing them around and running over them with your car!
I am hoping by late summer/this fall to finally launch my Etsy store, Marshmalloweather.  It doesn't have anything to be sold on it yet because I have been heavily procrastinating. But it's time to stop doing that and get this store up and running if it's the last thing I do! A huge announcement will be posted on my blog when that happens so please stop by, follow me or add me to your google reader if you enjoy my art and designs. Thanks again!!
Liz's Creative Links:
Liz Urso's Blog
Marshmallow Weather Etsy Shop
Society 6 Shop
Liz Urso's Pinterest
Related Posts:
In April, 7 bridesmaids and I helped to host a bridal shower for Allie, my top guest poster and also my MOH! (I was hers too!). I saw this concept on a Pinterest pin from this blog and instead of pooling our money to get her a large pot set, we decided to give her and her husband the gift of time! We bought them 12 gifts, which we labeled "A Year of Date Nights". Here's the opening letter Allie was allowed to open at the shower, which explained her gift:
"In just a few weeks, you will say "I Do."
Then a fun year of marriage is in store for you.
Since finding alone time can be the hard part,
We 8 bridesmaids gave you a head start.
We call this gift "A year of fun dates"
For you to enjoy with your chosen mate.
On the first of each month, you can open the seal
And that month's date, you will reveal.
Enclosed you'll find alone time with Tim.
What date of the month? That's up to you and him.
You may find outdoor adventures, activities or shopping,
Dinners, destinations and even bar hopping!
Promise us, right now and right here!
You'll keep the suspense throughout the whole year.
Don't peak at the date until the month arrives
So you can continue to keep it a surprise.
Make sure that you bring a camera with you
To document the fun activities you do.
Cherish this time with the love of your life,
Allie you will make a terrific wife!"
On the first of each month, Allie and Tim will be able to open that month's gift, read what it is and plan a date to make it happen. Once I know they opened their gift for that month, I'll post the details here to share.
Yesterday marked A&T's one month anniversary! Let's celebrate today with the reveal of the first gift!
This month, A&T opened their June box to discover a pizza box, with this message under the lid:
Inside they found the menu, flyer and gift card for a local pizzeria restaurant and a gift card to the nearby frozen yogurt place.
Happy one month of marriage A&T!
(supplies: Stickers: Sticko and Jolee's Boutique)
Click here to see all the other date night gifts!
Link Parties:
Kurtz Corner, The Southern Institute, Funky Polka Dot Giraffe, One Artsy Mama, So You Think You're Crafty, Naptime Crafters
Featured On:
One Artsy Mama's Top 10 Thursday
Related Posts:
Father's Day comes but once a year, so break out of the routine of flowery, butterfly-filled girly handmade cards and find your manliest, scruffiest, sports and activity filled paper and stickers to create some masculine handmade cards for dad!
I made the above 2 cards for my and Derek's dads for this occassion. My dad is a grill guy while Derek's likes golf!
Happy Father's Day, Dads!
(supplies: patterned paper: The paper company; stickers: Phrase Cafe, Jolee's; Edge punch: ek tools)
Related Posts:
I've learned my lesson when it came to making sure you pay attention to your landscaping and plants all year long. Sure, the spring and summer is a great time to let your plants grow and flourish but they still need maintaince, especially when it comes to trimming plants with distant shapes and designs. Remember this overgrown mess?
Yep, that's our weeping cherry tree, which I am vowing to pay attention to this summer and trim when needed. I'm happy to say in recent inspection, it seems to be growing and weeping in it's correct form.
This spring, I also noted this soon to be overgrown mess:
It's a Japanese Maple Tree that grows with beautiful red colored leaves that get even deeper in the fall season. The ideal look of this tree includes a high, full top without branches touching the ground. And it should also have some exposed areas of the lower trunk.
After watching this great "How to Prune a Japanese Maple" video, I went outside with clippers in hand, ready to even lay on the ground as directed on screen.
Voila, here's my japanese maple tree in it's beautiful pruned appearance at the front door to welcome guests!
Related Posts:
D and I often make homemade pizza using our (currently cracked) pizza stone and starting with a frozen dough base. But recently when visiting Allie's house to complete some MOH duties, we broke out her pizza dough yeast and made some homemade pizza entirely from scratch. Here's how we did it (recipe courtesy of Fleischmann's pizza crust yeast):
Supplies:
1 3/4 to 2 1/4 flour (we used bread flour but the recipe also lists all-purpose flour so I bet both are fine)
1 envelop Pizza Yeast
1 1/2 teaspoon sugar
3/4 teaspoon salt
2/3 cup very warm tap water
3 tablespoons oil
Pizza sauce and toppings as desired
Pizza pan (or stone)
If pizza pan, use cooking spray to grease
Bowl for mixing
Wooden spoon
Measuring Cups and spoons
Preheat oven to 425 degrees.
Combine 1 cup flour, yeast, sugar and salt into a large bowl. Add water and oil. Mix together until well blended.
Add gradually 1/2 cup flour until soft dough ball is formed. (it will be sticky). Add additional flour if needed to form dough ball.
Knead on a floured surface adding additional flour if needed, until smooth and elastic, about 4 minutes.
With floured hands, press dough out to fill greased pizza pan.
Add toppings. For our pie, we added a vodka pasta sauce and mozzarella cheese to cover. Allie added peppers, onions, goat cheese and garlic to her side, but I kept mine plain jane.
Bake on bottom oven rack of 12 to 15 minutes.
Allow it to sit for a few minutes before digging in!
Related Posts:
Melanie and George are back with yet another before and after. This time it's not a room, but a salvaged piece of backyard furniture. Narrated by Mel:
We bought the house inDec 2010, and noticed some junck in the backyard that we planned on getting rid of, come spring.  There was an old swinging bench that was pretty beat up that was among the mess.
We planned of throwing it out when we had a chance, but as we started hanging out in the backyard, we noticed that our friend Sean seemed to like to sit on the old bench.  He came up with the idea to repaint it and bring it back to life.  So a year later, George and Sean got together to work on refinishing the bench.
First, they scraped away the chipped paint and removed a scroll detail on the side that dated the bench.  They used a belt sander to sand down the wood planks and hand sanded the metal.
They cleaned the mold off and filled in any holes.  Next, they primed the wood with left over primer from the house.
Then they spray painted all the metal black.
Finally, they hand painted the wood with 2 coats of red paint. Now the bench sits in our backyard, ready for its new life by the fire pit.
Related Posts:
Guest Post: Allie's Craft Space