You are currently browsing the monthly archive for November 2011.
For a few years now, I've been inspired by both Ali Edwards December Daily  and Becky Higgins' Project Life. Prior to the month, Ali would make a mini album and then each day of the month she'd take one photo that would represent that day to put on the page with journaling. Becky's project life is a full product line and movement that suggests doing this 365 days instead of just one month. Both women have encouraged me to think outside the box when it came to documenting my life with photos.
I used these concepts as combined inspiration on my #16 of my 30 Before Thirty list, take one picture a day for one month. I chose last December as the month to do this challenge.
Whether, it's one week, one month or one year, I highly recommend everyone gives this a try once in their life. Sure you take a lot of "unimportant" photos, but it always gives a different perspective on your world and documents things you might not have originally noticed.
Here are a few of my favorites from the month that don't really focus on people, but the little moments:
December 9th – F&L checking out the reception hall at their rehearsal night. (don't focus on the couple but the space they're in to tell the story)
December 12th – Chinese Dinner. For messier meals, D and I always sit at the dining room table and set it for a little dinner date.
December 13th – Food shopping with D (how else would I remember how he always rides the cart like a skateboard)
December 17th – my car hitting 125000 miles, or 125,001 which is how far I got before finding a safe place to stop for a picture
December 20th – trying out a banana muffin recipe (which btw, you can find here!)
December 24th – baking my one and only batch of holiday cookies that year. (eating cookies is fun but why not document the process of making them?)
December 26th – the calm before the storm. The beginnings of a 2 day blizzard that caused chaos in our state and closed work!
December 28th – documenting the 3.5 hour traffic jam I was in on the way home since the roads were still not clear after the blizzard. (how much time is spent in your car? find ways to document it!)
Related Posts:
As a crafter, I know how long it takes to make some handmade gifts. Items I receive need more than the few minutes of love I can give it, so I'm happy to post these Handmade with Love posts that showcase great handmade cards or gifts I have received.
My birthday was in February. A dear, creative friend, AL, was kind enough to make this ring holder (yes she does glass blowing)! She knew how I was patiently waiting to get engaged and was thoughful enough to make this ring holder in hopes I'd be using it soon after. Just a few days ago, that day came so I can now use this ring holder!! (PS look forward to more wedding related crafting posts in months ahead! In 2012, I will be a bride, maid of honor and bridesmaid!)
In early May, I got a new job! After being there almost 6 years at my other job, I had definately made some great friendships with fellow crafters. CMS, one of my fellow crafter friends (and Art from the heart blog) was kind enough to send me this beautiful card! I love the mix of textures and shapes and it's definately something I need to practice more!
Related Posts:
Happy Thanksgiving all!
I know people who host, like my mom, spent this morning trying to figure out where to seat everyone, if there are more visitors than  chairs at your kitchen table.
Last year, we broke out into a mixed second table that wasn't all about kids. But with Mr. Blake now here, at only a few months old, I think he may claim to be king of the kid's table.
If you have a child and a kids table at your Thanksgiving feast or Holiday dinner, then maybe he or she needs this King of the Kids Table design to wear! (get one for Christmas!)
Related Posts:
As promised, here are a few more details from the Favorites Party!
Thanks for coming tags
I had been inspired by the paint chip crafts I kept finding on Pinterest, in particular this one by BellaCarla with a stamped image.
I grabbed a few paint chips from Home Depot with a fall palette in mind to make my thank you tags.
I cut them in half, stamped a polka dot pattern with Pigment Ink and did a little heat emboss action to add texture.
Add a printed phrase, a heat embossed owl and a ribbon and voila, a pretty thank you tag!
(supplies: Stamps – Hero Arts, Stamp pad - Color Blox, Materials - Inkadinkado Embossing Powder, Ribbon – Martha Stewart Crafts)
Cupcake Recipe
#13 on my 30 Before Thirty list included making cupcakes from scratch. I went on my favorite recipe site, AllRecipes.com, and decided on a Red Velvet Cupcake recipe from McCormick brand to be my first ever cupcakes from scratch. I think they turned out pretty good, but was surprised that the recipe really does make 30 cupcakes!
Decorated Dessert Table
#27 on my 30 Before Thirty List included making one of those fun coordinated dessert tables for a party. I always see them on sites like Amy Atlas Events and TomKat Studios and love them! I altered this concept to just be a coordinated party table, not just desserts.
I think it turned out pretty cute! With the thank you bags and basic serving ware on one side, the Chinese Lanterns and other fall items in the center and the cupcakes and snack items on the right, it turned out to be a functional, yet cute, set up!
Owl Candle Holder, White Cake Stand – Home Goods
Candy corn candy dish, Tablecloth - Kohls
Pumpkin basket, pumpkin decoration – Michaels
I'm sharing this post with:
Related Posts:
One time on a business trip a few years back, I had dinner at the 360 degree restaurant at the top of the CN Tower in Toronto. I had this delicious pork chop and apple skillet meal that in just checking on the website, they no longer serve right now. (here's the menu if you want to check out other delights!)
I never did forget that dinner and planned to find something similar that I could make for D.
I found this Caramel Apple Pork Chops recipe on Allrecipes.com and finally made it the other night!
I really like this site as I can save the recipes in a virtual recipe box, but I also love to read the first few reviewers who always have helpful alterations.  As per suggestions, I pan seared my thick pork chops in the skillet before putting it in the oven to bake. After making the apple part (with Granny Smiths) in the skillet and letting it simmer for a bit, I poured that mixture on top of the pork chops, covered in foil and let it bake some more in the oven.
I paired this pork chop meal with some oven baked roasted potatoes. Personally, I think it came out really yummy! D agreed and so I'm adding to the rotation of recipes we liked!
In the future I would:
Use only one apple as I threw out a lot of left over pieces
Make only 1 potato as the side or a lighter side. We didn't eat all of the potatoes as the apples were filling with the pork chops!
Related Posts:
This past weekend I hosted my first "Favorites Party." I learned about this concept over a year ago via Inchmark blog and have been seeing it pop up recently.
A Favorites Party is where each person selects a favorite thing or two to introduce to the group. It can be a favorite cosmetic, snack, gadget etc. Each guest presents their favorite thing and brings 5 of the same item with them (they can be different flavors or colors). In our case, we set a $5-$10 price total for whatever your favorite(s) were so that no one spent more than $50. (Tip: email invitees prior to ask if the price limit works in their price range).
When you arrive at the party you write you name on 5 slips of paper and put it in a bowl. Each person picks 5 slips of paper, making sure they don't get their own. Then they introduce their favorite thing(s) and read the 5 names they picked from the bowl, who go home with these new items.
It was a great excuse to do something different for a girls night and I think everyone had a good time.
The Favorites
Thirst Quencher Cup – This was one of my recommendations. It's double insolated so condensation from cold drinks won't appear on the outside! Since my desk at work and my craft space at home are covered in paper and other crafts, I am comfortable having this at my desk knowing the condensation won't leak on my stuff. With the straw top, I feel like I subconsciously sip much more often than taking the lid off a bottle. This cup has made me increase my daily water consumption (#15 on my 30 Before Thirty list) when I fill it up 2-3 times while in the 9 hours at the office! I had to use it as one of my favorites to present (purchased at Home Goods, of course!)
Bath and Body Works Foaming Hand Soaps - Since we set a $5-10 limit on our gifts, I wanted to present another favorite to the group. Go to any sink in my last two apartments or our house and you'll find these foaming soaps.  I love that I feel like I have clean hands without having to use so much water to wash off the soak from regular pump soaps.
Reuseable tote bag (it folds up super small but stretches out really big! Note: Lots of stores, like Shoprite and Target, now give you $0.05 – $0.10 back when you use a reuseable bag!)
Solar Powered Dancing Flower – to brighten up your office space!
Essie nailpolish and nailfile (my toenails now are sporting the School Of Hard Rocks as I type this!)
Trident layers gum – three different flavor combinations!
Soft lips chapstick
Fingerless gloves that had a convertable mitten so you could use a smart phone while staying warm!
Since everyone would be leaving with at least 5 favorite items, I decided to craft up a little thank you bag (above) for each guest to carry their goodies home.
Find more details on these tags and other aspects of the Favorites Party in an upcoming post!
I recently saw this card on Pinterest from Danielle Flanders' blog which inspired me to break out my Martha Stewart Scoring board and make my own mini envelopes on cards!
Under the MSC tool, there is a hidden envelope guide. Place the guide in the top left corner of the board and follow the directions for the size envelope you want to make. In this case, I wanted to make a small one that fit on the front of a card. I cut my paper to 5 1/2 x 5 1/2″ and made the four score marks it showed me on the guide.
After some quick folding and gluing, I made this adorable little envelope. Since the envelope already has a spot for a message, I didn't think this card needed to be the traditional folded type. Instead I stacked the elements on the front of this 6 x 6″ shape and finished this anniversary card marking 9 years together (dating).
(supplies: Paper – kaiser crafts 6 x 6″ pads, alphabet – heidi swapp, baker's twine – martha stewart crafts)
I was still in the mood to make more cards so here are two quick Congrats cards for my stash:
Here's a close up of the cuteness:
(supplies: paper – martha stewart crafts and kaiser crafts, flower sticker – ek success)
I'm sharing this post with: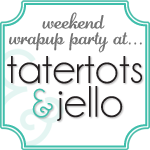 Related Posts:
Remember this post about Papercrafts magazine's inspiring challenges called Trigger Tuesdays?
Well I was inspired again by their choice of design and had to play along!
Last week's inspiration was this Beads and Baubles design: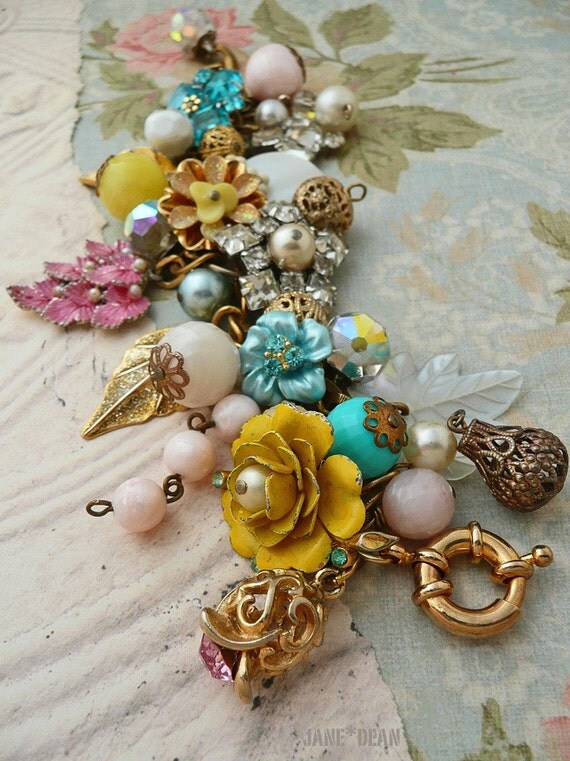 It's based on a bracelet they found on etsy from this designer. I loved the color palette with the mints of pastels, bright yellow and turquoise, and gold metals and came up with this birthday card for my stock pile:
You might not be able to tell, but each circle is a gold swirl design that was stamped in gold then embossed for a glossy texture design. Here's a close up:
I was inspired by the color palette and round beads of the original bracelet and I'm pretty happy with the results. Thanks again for the inspiration Cath!
(Supplies: Stamps and embossing powder – Inkadinkado, Rub On – Martha Stewart Crafts, Sticker – Jolee's Boutique)
Related Posts:
I'm so excited to present my first ever guest post by my good friend Allie!!!
With the name Allison, she was given the nickname "Owlison," as she has a slight admiration for these cute, trendy animals.  For Halloween this year, Allie became inspired by this Owl costume found via Pinterest and she made her own version for a neighborhood party! Take it away Allie!
Supplies:
Felt Sheets (white, light brown and beige)
White Feathers
White Plastic Mask
XL men's collared shirt (purchased at Target. I wanted to make sure to have something long. Plus it was less than $5!)
Alter the Shirt:
I cut the stitches out of the collar and pulled the collar out.  I also cut off the sleeves. I turned the shirt inside out and my fiance pinned the excess width to the back of the shirt – it actually looked like wings sticking out the back.  I also pinned the tops of the shoulders of the sleeves so they would be more like a tank top sleeve instead of a cap sleeve.  I pinned down the front button area to make a V. Lastly I pinned the arm holes closed an inch or two more than they were originally.
Decorating the shirt:
A month before Halloween, I made a pattern and cut out many "feathers" from the white, light brown and beige felt. Starting at the bottom, I used fabric glue to attach the feathers to the shirt. Tip: Randomly select colors layer in a brick style pattern.
Mask:
For the mask I cut the eye holes larger and used hot glue to attach a few white feathers.
Wearing the costume:
On the day of the party, I paired my top and mask with a white long-sleeve shirt, tight black pants and black shoes.  I was all set to stay warm on this rare October day in which it SNOWED!
A special thanks to Alllie for sharing her ADORABLE Owl Costume with my blog readers!! Isn't she cute?
I'm sharing this guest post with: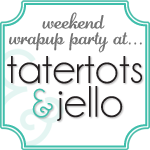 Related Posts:
Thus far, I've only ever worked at companies that sell consumer products. I worked either in the design, marketing or web departments, and so these are often very creative places. Come Halloween people tend to go all out in costumes and department decorating extravagance.
I tend to stand on the sideline and admire their creative craftiness for this fun holiday. Sometimes my personal Halloween costumes didn't work in a corporate atmosphere (Hooters girl or 1/4th of the Teenage Mutant Ninja Turtles) and sometimes I just wasn't into it. This year instead of dressing up and decking out my desk in spiderwebs, I decided to at least do something else fun and I made my friends some adorable cupcakes!
I saw these Owl Cupcakes on the Me and My Tadpole blog and knew they've be perfect for my Halloween treat (only I made mine from a box mix instead of the recipe listed).
I baked the cupcakes and while cooling, prepped the other materials. The tip given on the Me and My Tadpole blog to microwave a few cookies for 5 seconds, really did help to keep the cream hole on one side!
I used Reeses pieces for both the eyes and the beak and I still think they look super cute!
I had these Martha Stewart Crafts Halloween Cupcake boxes for a few years that I wanted to put into use. Each box had a separate piece, that when slipped inside the box, would help the cupcake sit still and not wiggly around. Genius!
I slapped the coordinating label on the front with a "Happy Halloween" message and closed it with the skull and crossbones sticker.
Before making these, I had shared the link with a few friends, one of which made her own altered version! Mary has Sugargliders, so she altered this wide eyed treat to mimic her little pets when making cupcakes with her neice!
Thanks for letting me share, Mary!
I'm sharing this post with:
, A Little Inspiration, The Gingerbread Blog, Flamingo Toes
Related Posts: